If you are thinking about booking an airport transfer on your next vacation, you're likely giving some thought to whether you should book a shared shuttle bus or some private transport. Is shared going to meet your requirements? Is private worth paying a premium for? Are there any other differences besides either sitting on a bus with other people or having a private vehicle all to yourself?
In this article, we're going to explore all of the differences between shared and private airport transfers so that you can decide as to which is best suited to your needs and requirements. Here's what you should know…
What is a shared airport transfer? 
Shared airport transfers, as the name suggests, refers to an airport transfer service that you share with other passengers. Essentially, you'll be booking a seat on a minibus or coach and making the last leg of your journey. 
What is a private airport transfer?
You guessed it; a private transfer is an airport transfer service that you have all to yourself / the group you are travelling with. Depending on whether you are travelling solo or in a group, the private vehicle could be a car, a minibus, a limousine, and more. 
Private car

Private luxury car

Limousine

Luxury minibus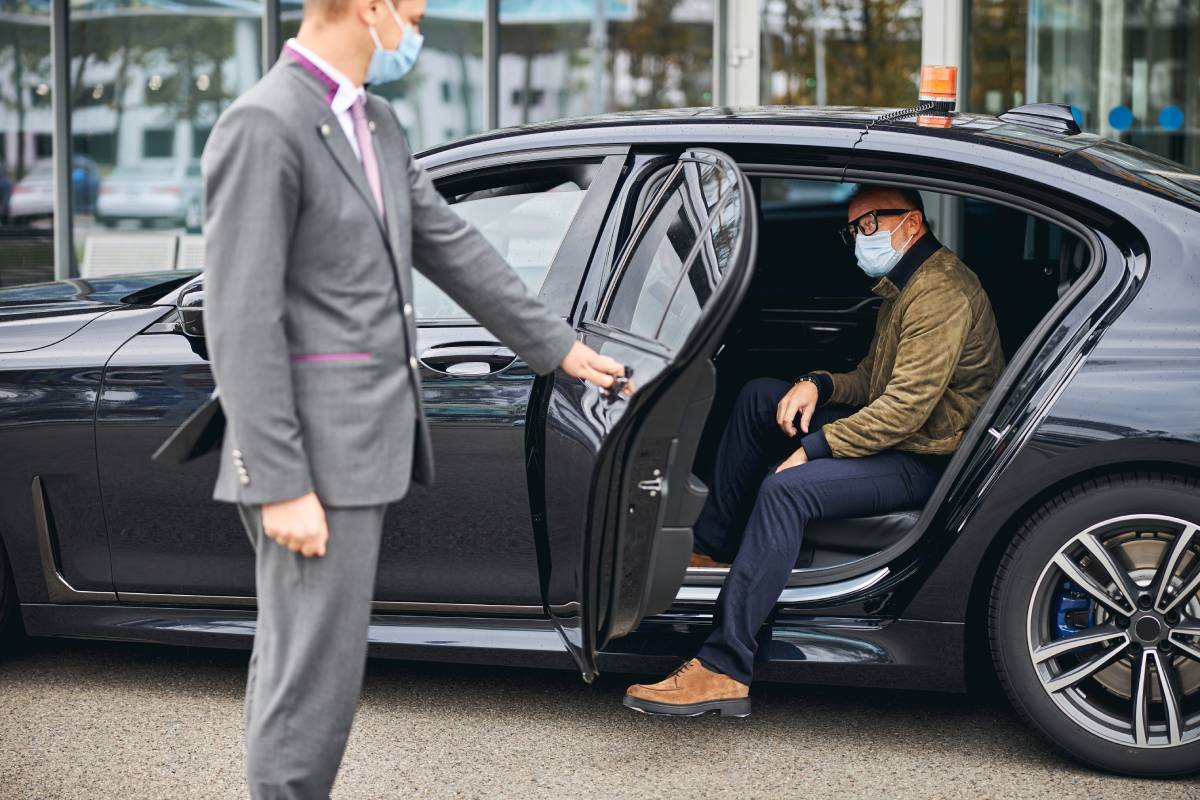 What are the key differences between shared and private airport transfers? 
So, besides from the obvious, what are the key differences between shared and private airport transfers? And what are the individual pros and cons of each? Let's take a closer look…
1 – Cost 
One of the biggest differentiating factors between shared and private is the cost. A shared airport transfer service is the cheaper alternative as you will be booking a spot on a shared bus or coach with several other people – rather than having your own private driver and vehicle. 
If you are travelling alone or as a couple, typically speaking, shared transfers are preferred. That said, if budget is not a concern of yours and you can afford to go private, others enjoy the perks that a luxury transfer option offers. 
In some cases, for small groups travelling together, a private ride share is a viable alternative to a standard shared transfer. That way, you can all chip in to cover the costs of a private vehicle and it becomes far more affordable. Again, it all comes down to preference. If it's a special occasion (e.g., a Buck or Hen party), booking a limousine transfer with some friends and arriving in style is always worth a look! 
2 – Comfort 
While most reputable airport transfer companies provide high-quality vehicles that offer plenty of comfort – even when shared with others – there's something to be said about having your very own private luxury vehicle. 
For some people, being able to kick back and relax without having to sit next to strangers is a must which is why they might favour a private transfer. For others who aren't phased by it, a shared transfer will offer comfort enough. 
Either way, a private vehicle all to yourself provides a certain level of comfort and convenience that cannot be matched. 
3 – Punctuality 
When sharing an airport transfer service with other people you have to wait until everyone is ready and the bus is set to leave. Yes, in most cases you won't need to wait much longer than half an hour, however, with a private transfer you will leave as soon as you are ready and not a moment later. 
4 – Private transfers offer less risk 
Particularly in a post-COVID-19 world, taking a private vehicle will minimise your exposure to other people and thus reduce your risk of catching anything. Certainly, being sat on an aeroplane full of people isn't ideal, but for those who are especially anxious about being too close to others for too long, a private transfer is a viable alternative. 
5 – Travelling with children 
Private airport transfers can be great, whether you are travelling with children or not travelling with children. For example: if you do have young kids and you're conscious about disturbing other travellers, a private vehicle can provide both you and your family more comfort. On the other hand, if you aren't travelling with children and would prefer not to have to risk ending up on a shared bus with a screaming child, then a private vehicle will afford you all of the peace and quiet your heart desires. 
6 – The VIP treatment 
Again, while any reputable airport transfer service should take excellent care of you whether you're in a shared vehicle or travelling alone, there's no denying that the VIP service is more attractive. By utilising a private airport transfer service, you'll have your very own dedicated driver waiting for you at the terminal to assist you with your bags and offer refreshments after a long flight. 
7 – Unplanned stops 
In a shared airport transfer, there are no unplanned stops. As such, if for whatever reason you feel the need to take a break, you'll be stuck. With a private transfer service, on the other hand, you can request a rest stop at your convenience. 
Yes, when doing Cairns to Port Douglas, for example, it's roughly an hour's drive so this isn't too much of a problem. However, you really can't beat Port Douglas Private Transfers – particularly for those who suffer from anxiety while travelling and could use the peace of mind that extra flexibility and control affords. 
Conclusion: Which is the better option? 
Ultimately, it all comes down to you. For those on a budget who aren't so fussed about their privacy, a shared airport transfer is a viable option. However, if you can afford to spend the extra and would much prefer to have a vehicle all to yourself, then private airport transfers are the clear winner. 
In any case, we hope that you have found this article helpful and wish you well on your holidays! Bon, voyage!